Well...so much for getting a post up quickly after we got home! If you know me well you will already know that I
think
about a lot of things but often don't
act
on them quickly! Never mind, I am here now. But be prepared - this could turn out to be a long post!
I had hoped to post before we left for a week's holiday but that never eventuated. Sorry about that but some things do need to come first. Things like housework - there is not a lot worse than coming home to a house that is yuck and untidy! Also I needed to get things organised for a couple of meetings I needed to attend the day after we were due to arrive home. But back to the holiday.
D's cousin and his wife, who live in Nelson, were to celebrate their golden wedding anniversary early February. Invitations had been sent out to all the rellies far and wide. Knowing we would be rather stressed out after a month of houseguests (yes, in my book your own kids can still rank as houseguests!) we thought it may be nice to go up there and help them celebrate.
The more I thought about it the more I thought, why not make it a nice little holiday. All our married life the only holidays we had taken were spent at relative's homes (yes, I will admit, all but one night of even our honeymoon were spent at the rellies!). This was mainly because of finances but also it was the only chance for D's parents (well, his Dad, anyway) to see the grandkids. But with no kids at home now and only two guinea pigs and a rabbit for a friend to look after (as opposed to the dog and 20 sheep, 10 hens and a cow or two in the past) we thought, what the heck - let's go!
So 4 nights in Nelson, return ferry tickets to Wellington, 2 nights in Wellington, and 1 night in Christchurch were booked. The car was packed and on the morning of Wednesday 31 we set off! Yay! A real holiday!
Even though D is from the West Coast neither of us had heard of the Maruia Falls until our son stopped off there early this year. The Falls are on the way to Nelson (we decided to go the inland route) and were well worth the short walk from the carpark down to the river as you can see here. This view is looking across the river from the carpark off the road.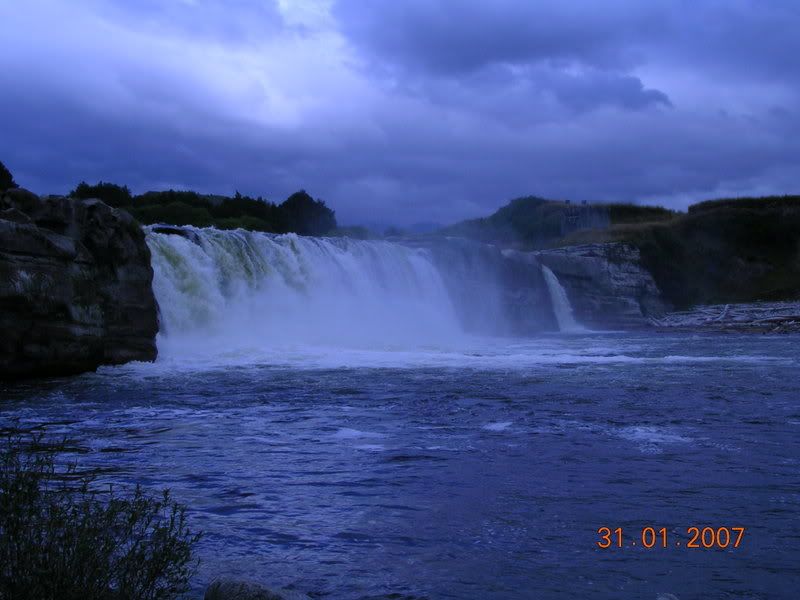 When at the waters edge you look up and across to these hugely wide (by NZ standards!)falls with the water pounding down on the rocks below. Created in 1925 by the Murchison earthquake, these falls are only a baby on the world's time scale but are, to me, so beautiful. Like a mini-Niagara!
We got to Nelson without incident and found the motel we were booked into - clean but not flash. Not a problem. Thursday was spent looking around town and visiting D's cousin.
On Friday we packed a lunch and travelled west towards Motueka which isn't really as far as I had thought. On the way we stopped off at the Hoglund glassblowing place just out of Richmond, a sort of suburb of Nelson. Beautiful work - but some was really expensive! There were some vases/decorative pieces with a price tag of $24,900.00!!!! They were handblown first then handpainted in a kind of Picasso-type style then handblown again overlaying it all with clear glass. Nice, but not my style and definitely not my price tag!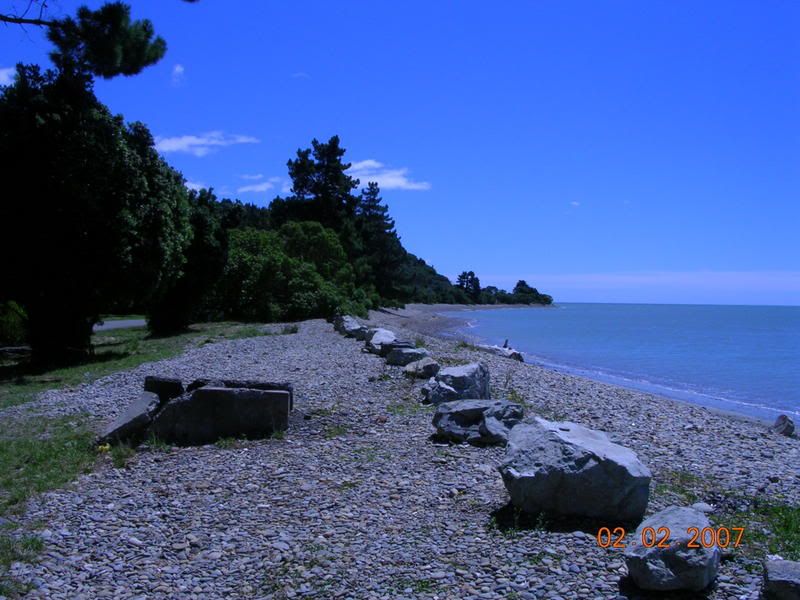 We carried on from there and found a lovely campsite/picnic area at Ruby Bay. It stretches a couple of kilometres along the coast below the road up on the cliff. It is long and narrow so everyone camping there isn't bunched up together and everyone gets a lovely sea view. There are a number of toilet blocks dotted right along the camp as well as two or three blocks with two showers/toilets! There are also heaps of water taps right along as well as basic wood-fired barbecues, a campervan waste-dump and a quite-nice children's playground. The whole place, including the toilets, was nice and clean and well-kept. Even I could be tempted by it! We had our lunch there sitting at a picnic table looking out over the bay towards Nelson. After lunch we took a long, leisurely walk along the beach up to the point then back to the car following the road going through the campsite.
Motueka was only a few kilometres further down the road. A nice little town which seemed to be buzzing. We had a look through the museum there, good but not as large as the one here. Had a cool drink on the way back at a lovely little garden/cafe place where I got some good solutions for some parts of our garden at home.
Where is the knitting? I can hear some grumbling! I didn't have a lot of room in my bag for much but packed some Opal yarn for another pair of socks. (There was also another ball or two of yarn stashed in there but that didn't see the light of day!) I cast on for the socks on Thursday morning while waiting for D to have a shower, and got a couple of rows of the ribbing done, but that was about as far as it got that day. More got done on the boat to Wellington but otherwise sightseeing was more important!
I did intend to make another pair of the Embossed Leaves socks by
Mona Schmidt
(see one of my early posts for a photo of previous socks) but have since decided to use the Slipped-Rib Stitch from Sensational Knitted Socks by Charlene Schurch. I think it may look better in the self-stripin Opal than the Embossed Leaves. That is such a pretty pattern it deserves better than Opal, IMHO. I like Opal but I sometimes wish that it wasn't, well, quite so stripey!
Anyway, that is enough for me to write, and you to read, for one day. I will carry on with tales of our holiday next time.