Yes! I finished the Oslo-Cairo hat in time for the Open Day! I am quite pleased with it even though it is a little smaller than an adult-size. I wasn't surprised, though, as I had spun the yarn fairly fine. Not intentionally, but it just seems to be the way I spin these days. Somethink I must work on as I need to be able to spin to task not have to alter the task to suit the spinning!
But isn't it pretty? Not a very good photo of it but I don't have a head I can put it on. The two colours (not quite the red my monitor shows but more of a dark, dull orange) look quite good together, I think. I don't recall ever having knitted with two colours on a set of five dpns before, so that was a first. Hopefully a last too! I much prefer two circs but I didn't have any the right size and I was too stingy to go out and buy some!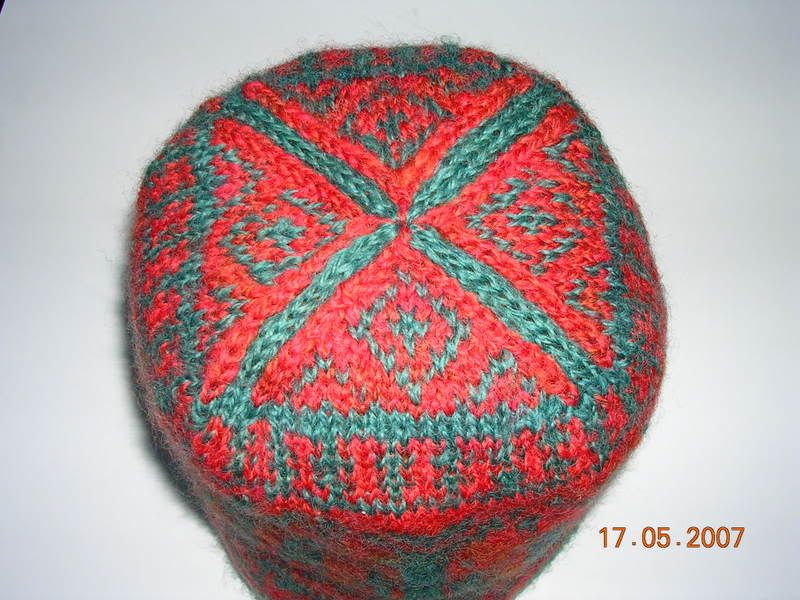 At left you can see the crown of the hat with the four decrease points. Looks rather effective, I think. I have never made a hat like this before. I have only decreased evenly around the whole crown on other hats I have made, so this was another first. One that I will definitely repeat sometime in the future.

On the right you should be able to see the two stylised animals (alpaca? deer?) facing away from each other with a tree between them.
The Spinners and Weavers Open Day went quite well, too. We had two speakers - Stuart Albrey on his journey into fibre and Pauline Jones on making pergamano cards. They were both well received. Stuart brought along several examples of of fibre including a beautiful roll of carded and gilled moorit 16 micron merino. This was worth $600 per kilo! Lovely stuff he called the "Rolls Royce" of spinning fibre. And no, I didn't buy any!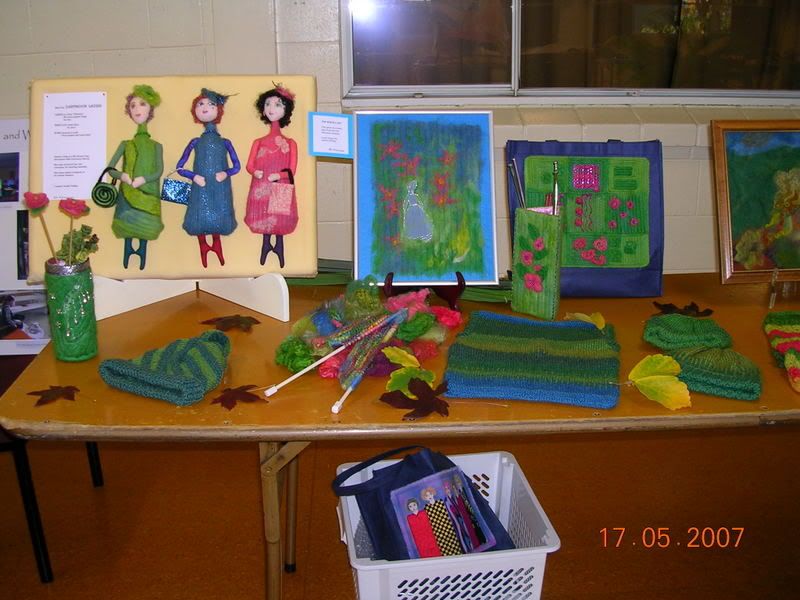 The table with the articles our members have made from the Dartmoor dyed fleece attracted a lot of interest. The photo shows just a few of the items on display. We have some very creative and talented ladies in the group!
Shirley Goodwin was also at the Open Day demonstrating handpainting yarns with the Tillia Dyes (Prochem) which she sells. This was a very popular table which was always surrounded by interested ladies. The colours of these dyes were really rather nice and when I need some new dyes I do believe I will buy some from Shirley.
This week looks like it will be no less busy for me as the builder will be here at 8am tomorrow to finish preparing for the new pellet fire, which is due to go in on Wednesday morning. Having taken out the old log burner this morning, the next couple of nights may be rather cooler than we have been used to recently. I am hoping that our recent reasonably warm (for this time of year) temperatures carry on a little longer!