Ok, so it has been awhile - but I have been busy! A little with knitting but also with work and family. Our grandgirls stayed last weekend and that is always a busy time. Children of the tender ages of three and one are very active little people! Just keeping an eye on them so they don't get into mischief is enough to tire anyone out. Lovely spending time with them, though, but nice to take them back too.

Work, I won't get into but suffice it to say that I don't take well to stress and it has been stressful on this front recently. Bah!

Knitting - not much in recent days (we've had our son and his fiancee staying over the weekend) but I must get cracking on the hat. It needs to be finished before Thursday! It has been swimming in the frogpond several times in recent weeks! Maybe you can see where I went wrong -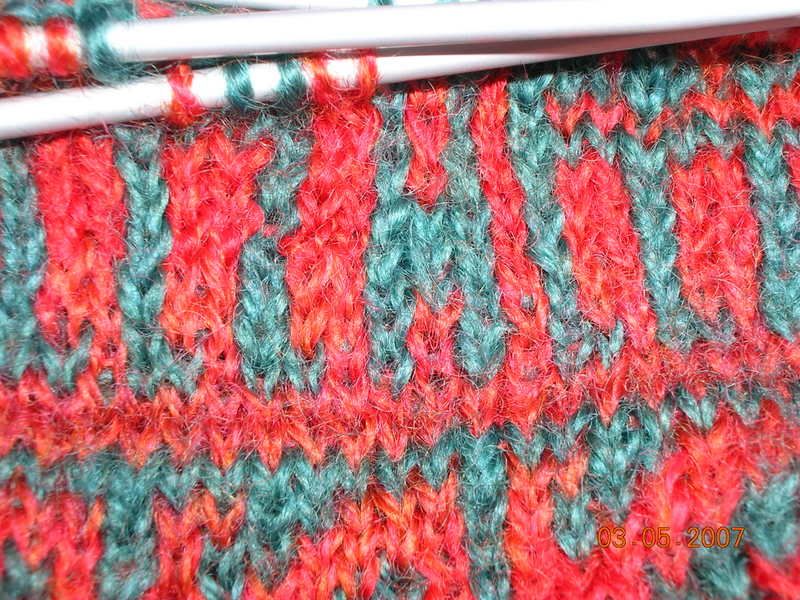 In the centre the green part which looks like an H is the trunk of a tree. On each side are the feet and legs of alpacas (??). They are both supposed to be pointing towards the tree. One side is, but the other side? No. Hmmm...do I rip it out and rework it? Sigh! Yes, I did and not for the first time, either.

But out it came and my needles started clicking again. As you may see below I got it right this time. Yay! This time I have used more stitch markers. Why on earth did I not think of that in the first place? Duh!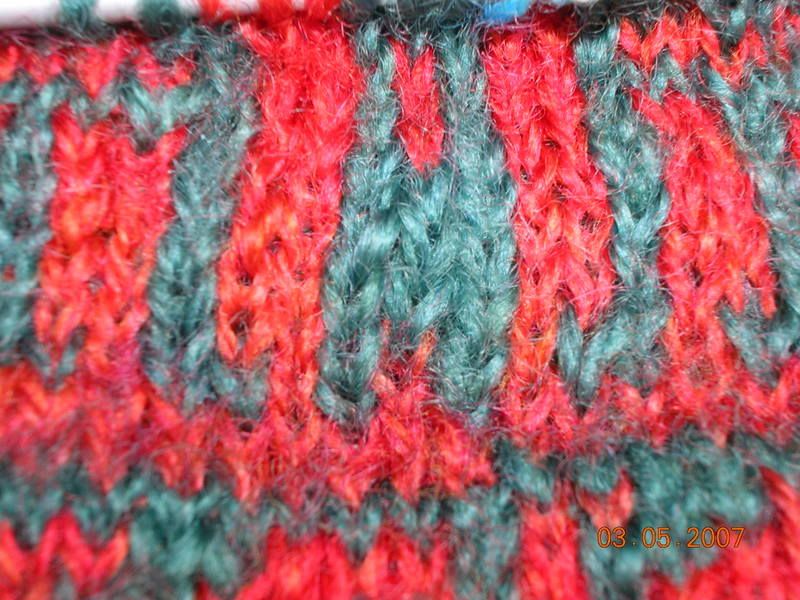 I didn't have smaller needles to work the hem at the beginning so it was knitted in the same size needles I have been using for the body. I am hoping this doesn't make too much of a difference. Too bad if it does because I am not going to redo it all! I have got a little further than the photo below shows; about two-thirds of the way to the crown decreasing. Surely it will be plain-sailing now?
Plans are all in place for the Open Day - the speakers have accepted and a dyeing demonstrator has been arranged. All I need to do now is bake something for a couple of "plates" and make a pot of soup for lunch. Easy, peasy (yeah, right!). I will need to be up extra early on Thursday as we will be meeting at the venue at 8.30am to begin setting up for the visitors to arrive at 10am. I anticipate it being a rather long and busy day with me having to MC it as I am our local President. Yay - not something I am particularly comfortable with. I much prefer staying in the background. Maybe I will be able to do that at our next Open Day in another two years.
Before I forget, my thanks to those who have taken the time and effort to comment (not that easy on Blogger, I know!). I really appreciate hearing from you all. I am not an expert spinner by any means and definitely not an expert knitter - but I try!
There is a little time left this afternoon before I prepare tea so maybe I can get another couple of rows done after I have looked for a recipe. We were given two ducks yesterday (it is duck-hunting season here) and my son cut out the breasts for me to use. (He also sharpened my knives for me! They were long overdue and he is quite good at it, given that it is part of his job.) I wonder what we will end up with tonight?