On
Knitters Review
a few days ago there was an interesting thread about the largest items we had made from handspun yarn. As I have been spinning for a number of years my mind was cast back over a variety of projects I had made. They were mainly jerseys my children (when they were smaller), my parents and myself.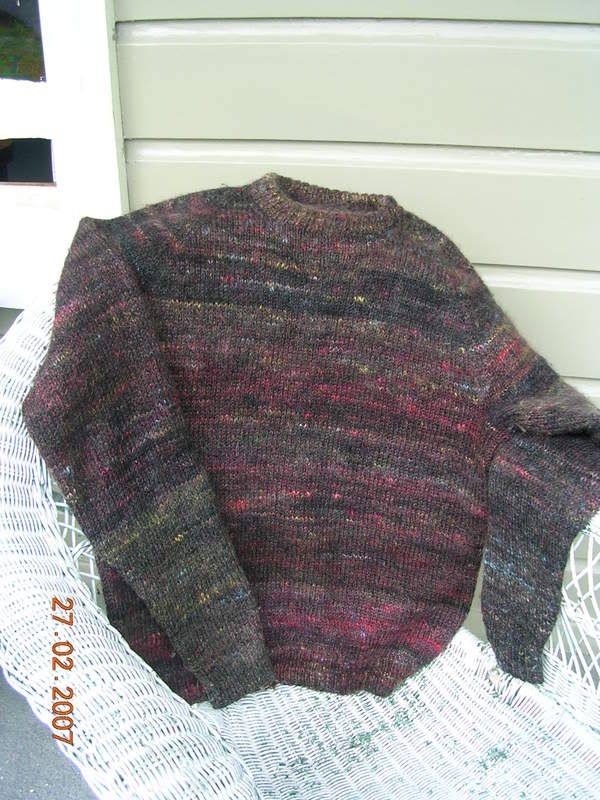 My favourite, though, is a jersey I spun and knitted for D close to 10 years ago. I bought the 60% wool/40% mohair sliver (colour = Midnight Sky) at the Creative Fibre Festival in Greymouth in 1997. It had been dyed and carded by Rotocard (no website). The firm has since changed hands but they still have the same colours, as well as some new ones. Although the spinning is a little inconsistent (thicker at the beginning getting a little finer as I spun on) I was really pleased with the final product - soft and not too fluffy. The base of the sliver is black wool with the colour coming from the mohair which was not overly carded into it leaving the colour coming in clumps rather than becoming a homogenised mass.
I wanted to knit the jersey in the round. Never having done this before, I used Elizabeth Zimmermann's percentage system which I found described in an old Spin Off magazine. This worked really well although, if I used this pattern again I would increase the number of stitches in the sleeve. A little tight for today's styles, in my opinion. Some of the colours came out more strongly in some skeins than others (for instance, one of the sleeves has a decidedly yellow cast) which, if I had been more careful I may have been able to even out a little but overall I was really pleased with it. Like the spun yarn, the knitted fabric is soft and silky but not too fluffy. The mohair has raised a little over the years but is still not too "fluffy" for a man to wear.
Even today, D wears his jersey proudly always keen to tell people who ask about it (and there have been many!) that his wife spun and knitted it from scratch! Just thinking about it makes me think that maybe I should get cracking and make him another. After all, this one is nearly 10 years old! Still going strong, though.