I realised a day or two ago that I had not shown you the skeins I had bought in Nelson while on holiday in February. Bad blogger! So here goes: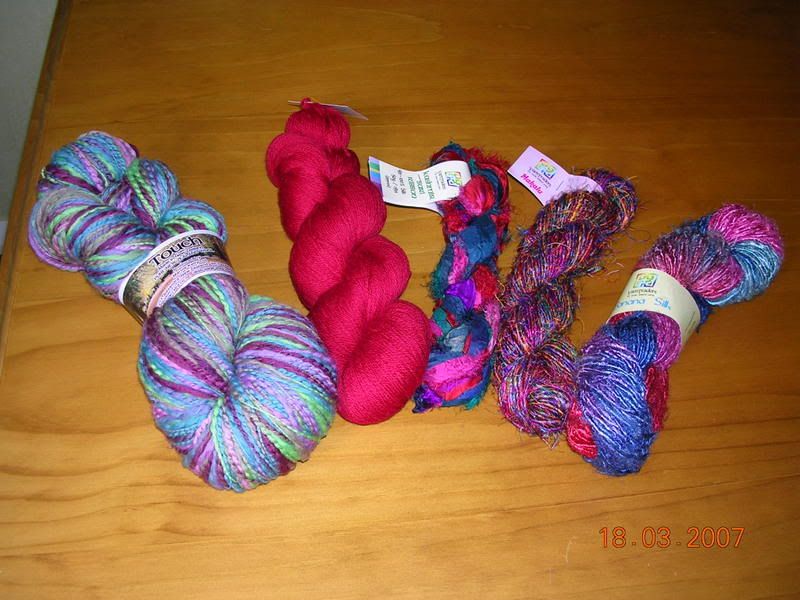 Yes, I know only five little skeins, but at least that is something. From the left we have a lovely soft 200g skein of slub yarn from Touch Yarns. This skein is unbelievably soft to the touch and such pretty colours which are fairly true on my monitor but perhaps a little more muted. Plans for this yarn? I have no idea, but I am open to suggestions! Although there is no length stated on the label it does say that the yarn knits as an 8 ply on 4mm needles.
To the right of this skein is another offering from Touch Yarns, this time a super-soft 4 ply fine wool in a lovely deep red, not quite as pink as the monitor shows. Again there is no yardage stated but the skein weighs in at 100g. I'm not sure about a final destination for this one - perhaps a scarf (either long or triangular) or a mobius.
To the right of this, again, is a tiny little offering of kashmir sari ribbon from Yarntraders. Very pretty in shades of pinks, reds, purples and teals (do I see a pattern here?) the label states the skein weighs in at 50g and is a mere 19m long! It is 90-100% silk. To its right there is another skein from Yarntraders, Makula, 80m of 100% recycled cotton. The usual pinks, purples and blues with a fair smattering of orange and yellow in it.
On the far right you see a 75m skein of Banana Silk from Yarntraders in the colourway "Magic Carpet" which appears to be spaced dyed red, blue. pink and turquoise. The label describes this skein to be rayon made from banana palm fibres. It has a slight sheen, is spun fairly thickly but with some thinner patches. It is quite dense and heavy for its size - it weighs 200g.
I have been thinking of making these last three skeins into a scarf knitted lengthwise maybe finding a woollen yarn to work in along with them. Not sure yet. I wouldn't mind making them into a small bag but I'm not sure how to combine the three and would I have enough to do this? Again, suggestions welcome. But I am not averse to having them sit here in my stash and bring them out now and then to look at, dream about and maybe pet a little!